Abraxas' Other Interests
What does Abraxas like besides music?
Abraxas has a lot of varied interests, and though most are creative, he doesn't mind just messing around either.
Abraxas is a talented artist and actor. He would love to be in films if at all possible and can take on very challenging roles without breaking a sweat.
He also loves sports, and while, by his own admission, he isn't terribly coordinated, he enjoys kicking a ball around, shooting hoops, or smacking around a tennis ball. His favourite sports to play are football (soccer), hockey, and baseball.
Abraxas is a published author as well, with several poems in anthologies. He also loves to write stories, articles, essays, and screenplays. One of his dreams is to be cast in a movie made from one of his own scripts.
He's also a bit of an aspiring standup comedian. His sense of humour is surreal and strange, but intellectual. He is highly influenced by Eddie Izzard in this field.
More along the lines of music, he also arranges songs for choir.
Abraxas' performing experience
Abraxas began performing at a very young age. His first "performance" in front of a crowd was in Disneyland when he was three. Abraxas was very ill at this time and his parents carried him around on their shoulders while he sang, drawing crowds. This is also when Abraxas first saw Michael Jackson in the film Captain Eo. That film got him hooked on Jackson.
Abraxas' first piano recital was when he was five. The concert was at Symphony Hall in Salt Lake City in front of a small crowd of about 30 or 40 people. Abraxas went on to sing solos in elementary school plays, concerts, and talent shows, and would occasionally accompany himself on piano. In Jr. High and high school he did a number of solo vocal performances (at least several dozen) as well as choir concerts. On one occasion he also choreographed a dance number to Michael Jackson's "Thriller" for performance in a Halloween play for his 9th grade drama class. He imitated some of Michael's complex moves such as the Moonwalk, two- footed spin, and landing on two toes.
In high school the audiences grew in size, and Abraxas was playing and singing in front of thousands of people. Two of his choral arrangements ("Dust in the Wind" and "Dream of Thee") were performed by his choirs. On the first number, when he was a Junior, he accompanied on piano, and on the second number he played electric guitar. He also played bass guitar for the choir in a few performances. He went on three choir tours to Los Angeles, singing solo performances again at Disneyland (only this time with a microphone and seated spectators), and did a few televised gigs at the Crystal Cathedral.
He has also performed at Six Flags and Paramount's Great America.
What are Abraxas' views on performance?
Abraxas believes that a concert should be a complete audio-visual experience-- not just a show. It should be something people really get involved in. He believes that a concert should not just be playing the songs as they appear on the album or music video. Why do that? The audience may as well stay home and pop a DVD into their player. Abraxas wants to push the limits of the concert experience, bringing brand new, stunning and exciting visual effects to the show. He wants to incorporate every possible kind of effect into his shows-- from hanging off catwalks and cherry pickers, to swinging upside- down onto the stage from a rope and harness. He never wants his audience to know what to expect. He never wants them to think he will just walk onto the stage. Abraxas wants his crowd to be searching the arena before the concert, looking for him, not knowing whether he'll be walking up to the stage from the back of the venue, shooting up from a trapdoor, or dropping from the sky. Abraxas wants all the latest technology in regard to the PA, lights, pyro, and set design. He designs his own stage costumes to be exciting, interesting, and catchy. These costumes range in style from Victorian to Glam and everything in between. In the simplest terms, he wants people to walk away from his concerts and not be able to say anything but "wow."
Abraxas' goals as a musician
Abraxas wants to take over the music world. He wants to tip today's music on its ass. He's sick to death of boy bands, pop- punk, and musicians who lack talent and integrity. Abraxas' view is that it's not a band unless there are instruments. He wants REAL drums, REAL guitars, REAL bass guitar, and non- electronically- altered vocals. A synthesiser cannot take the place of basic rock instruments. Ever.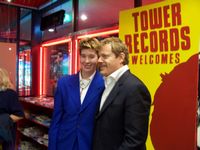 Abraxas hanging out with Eddie Izzard in Chicago, Nov. 2004.