Vital Statistics, Thank Yous, and FAQ
Random things about Abraxas.
Height: 5' 10"
Weight: about 8 1/2 stone (120 lbs)
Eyes: hazel
Hair: dark brown
Born: 17th July, 1986, in Winston- Salem, NC
Family: mum and dad, Bobby (biological father) and Sheri (stepmum), Cody and Ali (brothers). And he considers all his friends to be siblings too. So, big family!
Schools: Challenger preschool and kindergarten, Meadow Moore elementary, Twin Peaks elementary, Challenger elementary, Bonneville Jr. High, Cottonwood High school, University of Utah.
Dominant hand: right.
Handwriting: entirely illegible most of the time. Changes with mood.
Religion: Agnostic.
Demeanour: Lazy bastard, but very motivated. Friendly and not easily angered, but can quickly get up in arms about things (particularly prejudice of any kind, or people getting mad for no reason). Friendly but not particularly talkative. Very serious but with a wicked sense of humour. Generally completely self- contradictory.
State of mind: Discontent. Bored. Generally unhappy with the way things are going. Wants to just get out there and make it happen but doesn't quite know how. Open- minded... And a "glass is half full" type person. Ballsy.
Home: Anywhere. Feels most at home away from home-- in hotels, living out of a suitcase. Adores London.
Habits: smoking, getting hair cut and/ or dyed at frequent intervals. Constantly changing appearance. Strange addiction to the Internet, while finding it extremely aggravating and useless.
Unusual Skills: Sound effects, vocal impressions, and various accents and dialects. Jell-o slurping. Can dislocate own shoulder, wrist, and fingers. Can roll tongue and cross eyes. Blowing smoke rings. Rolling cigarettes (or the occasional spliff). Drawing. Peeling wallpaper. Knows American Sign Language (though not fluently). Can write his first name in Farsi. Using a sling- shot, irritating people, and doing the Moonwalk. Can swing a baseball bat (and hit a baseball with it) ambidextrously. Falling down without getting hurt.
Completely useless at: keeping room clean, going to bed and waking up at normal intervals, bowling, pullups and pushups, running, and other generally sporty- type things which require strength and stamina. Tetris. Holding onto money.
Likes: small children, animals, jetskiing, cufflinks, small plants with good personalities, English films which most people find incredibly dull, language, driving really fast, soda, food, Gothic architecture, positivity, watching people interact in good ways, deep conversation about abstract things, quantum physics, philosophy, proper spelling and grammar, surrealist art, stand- up comedy, incence (amber- scented), underpants, learning, chairs, the word "quango," dark colours, shoes, odd hats, socks, clothes, cologne, tea. Rockclimbing.
Dislikes: closed- mindedness, prejudic, bigotry, hatred, negativity, people who don't try to reach their full potential, injustice, etc. And bad drivers.
Occupation: Courier (blood, samples, medical supplies, etc.), stand- up comedian, and musician.
Collects: Queen, Hugh Laurie, and Eddie Izzard memorobilia, art, CDs, DVDs, records, slinkys, markers, ball ends from guitar strings, and interesting knick-knacks and toys
Would like to try: wake- boarding, skimboarding, and surfing. Driving a car around a race- track. Flying an aeroplane. Skydiving. Hang- gliding. Being in a film. Driving a motorcycle.
Pet Peeves: Cds and DVDs skipping. PeOpLe TyPinG LiKe THiS. Not having a pen when it is needed. Waking up really early.
Phobias: public toilets, especially those automatic- flushing ones. Also public showers (or ones in hotel rooms). Outhouses. And death.
Clothing: Shirts with French cuffs. Oxfords, black Levi 501 buttonfly jeans, sport jackets. Leather trousers. Clothes that most people wouldn't be caught dead in.
Food and drinks: Burritos, curry, good Italian ice cream, gratino, baked beans and toast, bananas, kumquats, persimmons, nectarines, black plums, and kiwis. Vault, Rock Star, white Russians, vodka in anything, whiskey, pina colada, fuzzy navel, white wine, jack and coke, gin and tonic. Some beer.
Shops: thrift shops are fun. Mens' formal clothing stores. Record stores.
Places: London, Berlin, and Vienna. Anywhere where the stars can be seen at night. Places that smell good. Lava Hot Springs, Idaho.
Villains: Hannibal Lector, what a guy!
Heroes: Brian May, Hugh Laurie, and Eddie Izzard.
Music: Queen, Brian May and Freddie Mercury solo, Styx, Journey, Symphony X, Hugh Laurie, Michael Jackson, Culture Club, Rod Stewart, the Beatles, Opeth, Yngwie Malmsteen, Van Halen, Ultravox, Rolling Stones, Elton John, David Bowie, Orleans, Def Leppard, Kansas... Mostly Classic Rock, Classic Metal, Epic, and Prog.
Films: Maybe Baby, Girl From Rio, 84 Charing Cross Road. Hannibal triology, The Cat's Meow, The Italian Job (the original one), North by Northwest. Lots of films, especially old British films that most people find incredibly dull.
Plays and musicals: A Day in the Death of Joe Egg, We Will Rock You, Newsies, Les Miserables.
Comedians: Hugh Laurie, Eddie Izzard, Ellen Degeneres, Bill Hicks, Monty Python... lots. Also, Sina Amedson, Craig Woodall, and Christopher Stephenson (local guys).
Actors: Hugh Laurie, Eddie Izzard, Anthony Hopkins, Kevin Spacey, Johnny Depp, John Travolta, Mike Myers.
Books: The Gun Seller by Hugh Laurie, Demian by Hermann Hesse, Ariel by Steven Boyett. Dress to Kill by Eddie Izzard, Moonwalk by Michael Jackson. Biographies are good. Stacks of them.
Angered by: war, injustice, poverty, unnecessary suffering, prejudice.
Moved by: music. Lots of things, but mainly music.
Words of wisdom: It's all about karma, mate.
Thanks to:
(Personal)
Mum & Dad, Cody, Gram, Dave, Bobby and Sheri Allen, Bobby Sr., the Bowmans, Bruce and Angela Brady, ALL the family, My Blather family (including but not limited to: Elise, Cheffy, Cathy, Bec, Monkey, Phe, April, Graham Cracker, Cabana, Trude, Pom, Slutty, Sexie Lisa, and everyond else! I do mean that!), Amber D'Imperio, Anthony Ball, Jayson Brown, Angela Mardini, Zack Averett, Nicole Jonkman, Cornelius Weber (slightly furry Irish guy-- sorry, had to!), Chris Williamson (even though he vanished!), Greg Bernini, Dave Martin (cos he's just awesome), Nicholaus Chipping, Dave, Wendy, and Parker, Fiona Ostler (Wilhelm to me!), Denise Turpin (?), Erin Pike (for the choir stuff), DJ, Kyle Roundtree (major drummage), Jeff Marston (best physics teacher EVER... well, so far anyway), Jen and Frank Tunney, Nicole Daughters, & all on the list, Dianne, Tony Lewis, Rusty, Steinbeck, Max, Charley, Petey, Flash, Roscoe, Doby, Fatso, Scooter, the 3 cats, and the fish. Also, Sina Amedson and Craig Woodall for getting me psyched up about comedy.
(Hero Worship-- music)
Dr. Brian May, Freddie Mercury, Roger Taylor and John Deacon (Queen); Hugh Laurie (rocks the keys like a madman); Yngwie Johann Malmsteen, Jeff Scott Soto, Joe Lynn Turner, Marcel Jacob, Jens and Anders Johannson (and anyone else from YJM or Rising Force lineups); Joe Elliot, Phil Collen, Rick Allen, Rick Savage, Steve Clarke, and Vivian Campbell (Def Leppard), Eddie and Alex, Dave Lee Roth, Sammy Hagar,and Mark Anthony (Van Halen); Steven Tyler; Don Henley; Elton John; Billy Joel; Ritchie Blackmore; Boy George; Cozy Powell; Jimmy Page and Robert Plant (Led Zep); Tommy Shaw; Steve Perry; Randy Rhoads, Tony Iommi, Ozzy Osbourne (Sabbath); John, Paul, George, and Ringo (the Beatles); Michael Jackson; Neil Murray, Spike Edney, and Jamie Moses (B.M.B.) Mick Jagger and Keef (Stones); David Bowie; all from Symphony X; Tommy Shaw, JY, Dennis, and the other Styx boys; Valensia; Eric Whitacre.
(Hero Worship-- Other)
Eddie Izzard (funniest-- and sexiest-- bloke in a dress, EVER), Steve Irwin (R.I.P.), Steven R. Boyett, Stephen King, Stephen Fry, John Stamos, Mike Myers, Dana Carvey, Jim Carrey, Anthony Hopkins, Wayne Gretzky, Wayne Brady, Bart Simpson, Da Vinci, Jack Daniel (teehee), penguins (cos they're stylish, see.), Madeline L' Engle, C.S. Lewis, J.K. Rowling, Bill Cosby, David Gallagher, Salvador Dali, John Stephens, Irvine Peacock, Nelson Mandela (Madiba), Johnny Depp, John Travolta, Arnold Schwarzennegar, & Drew Carrey, Dan Seagrave, Scott Mutter, Victor Vasarely, Roseanne, Phil Jupitus, Jonathan Ross, everybody named Clive, and that one really nice police officer.
EDDIE IZZARD By Abraxas: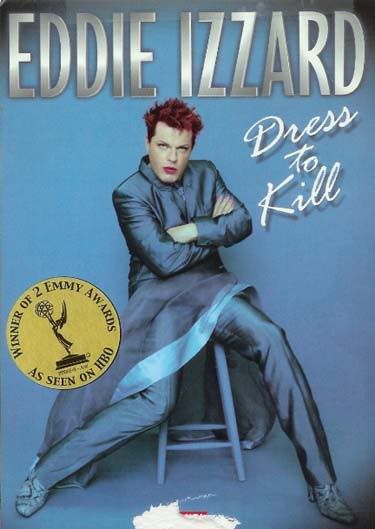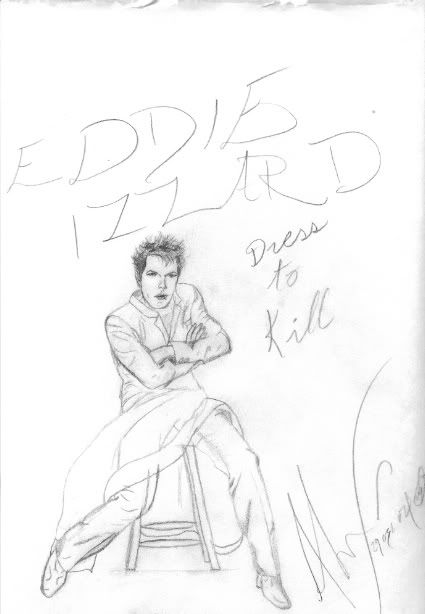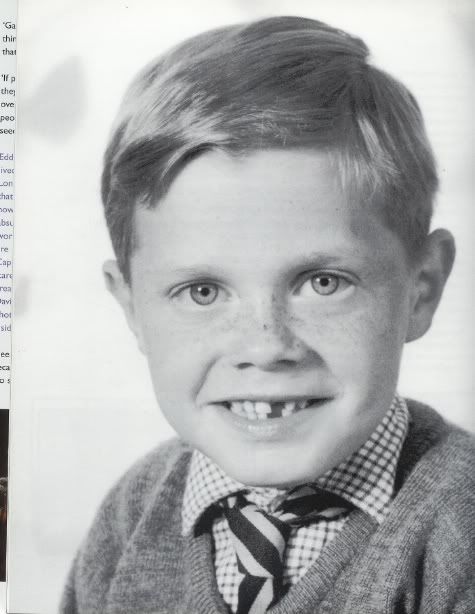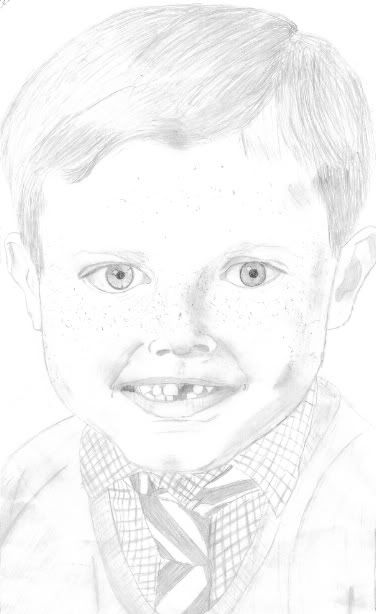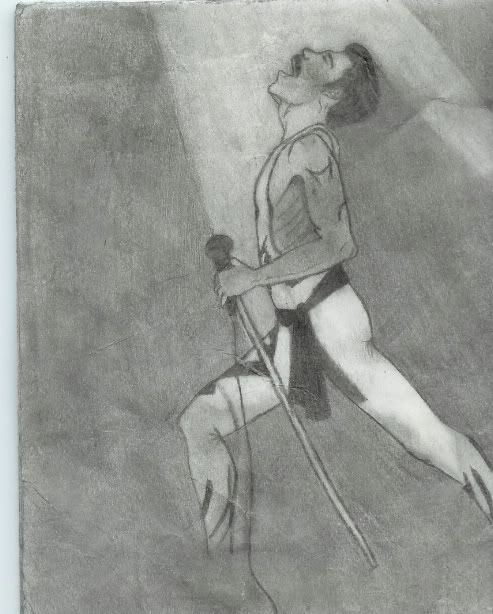 FREDDIE MERCURY by Abraxas
FAQ
Q: Does Abraxas really play all the instruments himself?
A: Yes.
Q: Can I book Abraxas for a gig?
A: Currently, Abraxas does not have a band, so if you do want to book a gig, please understand that it will only be Abraxas playing, unless you have a house band that can learn the songs quickly. Abraxas will only do gigs in Salt Lake and surrounding areas unless you are willing to pay for travel and hotel expenses.
You can also book Abraxas for a stand-up comedy gig, but the same rules apply.
Gigs must be scheduled at least 2 weeks in advance, more if it is to be an out- of- town gig.
Q: How do I contact Abraxas for booking?
A: Through his webmaster Benny (that's me!). The email address is Abraxas_webmaster@yahoo.co.uk

Q: Why doesn't Abraxas have a band?
A few reasons. Abraxas doesn't have time to be in a band at the moment (due to school, comedy, work, and various other commitments). He would love to be in a band though. Also he is a solo artist (has always wanted to do his thing solo). While he will obviously need a band to tour with, he prefers to play all the instruments on his album. The album is the most important thing right now, over playing live, so Abs doesn't really need a band just yet. When he starts touring he will audition musicians for a stage band.
Q: Can I have an autograph?
A: Abraxas is very happy to give autographs. Just contact Benny for the address and then send an S.A.S.E. If you have a specific picture or item you want autographed that is fine, too, unless you just want Abraxas to sign a bit of toilet paper or a banana skin. If you want a picture from this site, either print and mail it yourself, or include a seven dollar handling charge with your S.A.S.E. and indicate which picture you want autographed, and Abraxas will print the picture on high quality Kodak film especially for you!
Q: Is Abraxas signed to a record company?
A: No. Abraxas records all his music with Mark Stephenson at M.A.S. Music in Clearfield, Utah.
Q: When is this album going to be released, anyway?
A: Whenever it's finished!
Q: Why is it taking so long, eh?
A: Because Abraxas is a perfectionist and is indecisive. He has had a hell of a time deciding which tracks he wants on it, and as soon as he thinks he's decided, he hears a new song and changes his mind again. Also, Abraxas will not release this album until every single note is perfect. And, Abraxas has a lot of other things to do, like going to University and working. Should be soon though.
Q: Can I do anything to help?
A: Sure! You can do lots of things to help. It's very expensive to record an album (not to mention musical equipment like new drumsticks, guitar strings, repairs, etc.) so donating money always helps. Just Paypal it to Demian_tv@yahoo.co.uk, or mail it in. Also you can help by letting Benny know if there are any problems with the website (a song won't load, a picture is messed up, typos, broken links, etc.). Also, encouraging words and paid gigs are always good, although Abraxas will perform for free or for tips. You can also link to this website on your own website, Myspace account, email signature, etc. Word of mouth is the only way people are going to know about this site!
Q: How much does Abraxas have to do with this website?
A: Abraxas personally oversees absolutely everything that goes on here and has helped a lot with the content. If he wants something new on here he lets me know. All changes, additions, and updates require approval from Braxy.
Q: Who are you?
A: I'm Benny. It's nice to meet you.
Q: Will Abraxas merchandise become available at some point?
A: Eventually, but not for quite awhile. Once Abraxas has built up a fan base and is being paid for gigs and such, he will probably have stuff made. But you can print your own T- shirts, bumper stickers, badges, or whatever you want! Spread the word!
Q: Is there any way we can know when the site is updated?
A: Sure! Just drop a line to Abraxas_Webmaster@yahoo.co.uk and ask to be on the update mailing list. This will also get you up- to- date information on anything Abraxas is doing in the way of gigs, etc.
Q: Are prints of Abraxas' drawings for sale?
A: Err, not exactly, but Absy is willing to make and mail photocopies. Same rules apply here as for the autographs (send a S.A.S.E. and a ten dollar handling and purchase charge). Abraxas has done a lot more drawings than are on the site, so if you'd like to see any more let me know and I can email scans to you.
Q: What's Abraxas' full name?
Haha, not telling! But he's gone by dozens of names in his life, so he will answer to pretty much anything.